Hyundai N in Corner Brook, N

Hyundai N in Corner Brook, NL
Driving enthusiasts and thrill-seekers will be ecstatic to meet the Hyundai N of performance-first vehicles at Parkway Hyundai. This series of racy models features several variations of Hyundai's most popular models, as well as several new innovations that will steal the hearts of those who love engaging, dynamic, and enthralling drives. Consumers based in our home of Corner Brook or the neighbouring Deer Lake, Stephenville, Springdale, Hawke's Bay, Sheppardville, NL can meet the Hyundai N below before visiting our dealership to find their ideal model among our new inventory.
What Does the N Mean?
Every Hyundai N model is born and designed at the Hyundai Motor Namyang R&D Centre in South Korea, then tested at the Nurburgring, one of Germany's most challenging racetracks. This rigorous process has yielded a handful of jaw-dropping performance models with the sportiest or rides and excellent cornering ability, and we couldn't be prouder to introduce them to you below: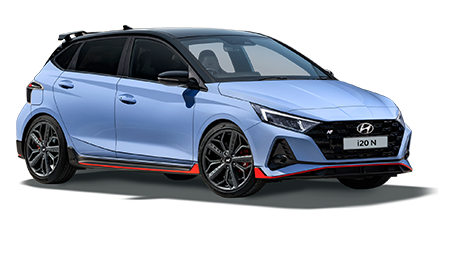 The all-new i20 N boasts a rigid build and a lightweight body that enhance its athletic handling and make it a blast to drive on both winding roads and errand runs. A 1.6-litre turbocharged engine packs over 200 horsepower and pairs with a six-speed manual transmission that allows you to stay in control of the compact i20 N's riveting ride. This new N line model also hits a top speed of 230 km/h and boasts swift acceleration, hitting 100 km/h in just over six seconds. In addition to its pep, crisp handling, and precise steering, the i20 N boasts a rally-inspired design with a bold black grille, a lined hood, and a dual-layered spoiler.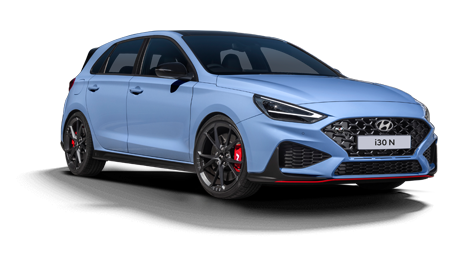 Hyundai's i30 N boasts a cleaner, more understated exterior design than the i20, but it packs more pep in a 2.0-litre engine with over 275 horsepower. Like the i20, this racy hatchback is made of lightweight materials that sharpen its handling, while a wet-type eight-speed dual-clutch transmission pairs with paddle shifters for a sportier drive. With its clean, modern, and driver-centric cabin, you can enjoy the i30 N's responsive, engaging ride and quick acceleration to the fullest.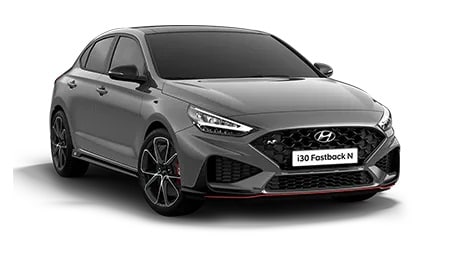 The i30 Fastback N is an elegant coupe with clean bodywork and a design that strikes an ideal balance between aerodynamics, drag, and downforce for a most riveting drive. Like many models in the Hyundai N line, the Fastback N's cabin is driver-centric and offers comfortable, supportive sport seats. As for its hardware, this Hyundai N model packs a 2.0-litre turbocharged engine with nearly 250 horsepower that pairs with a six-speed manual transmission and hits a top speed of 250 km/h.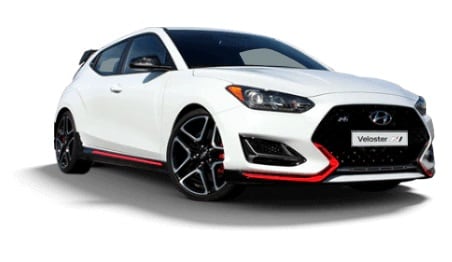 Another racy model in a compact package, the Hyundai Veloster N ensures that every drive will be tons of fun, thanks in part to its paddle shifters and eight-speed wet dual-clutch transmission. Nicknamed the Corner Rascal, the Veloster does its moniker justice with exceptional cornering ability, all while packing nearly 250 horsepower under the hood. As for its design, this racy N model rests on sleek alloy wheels and boasts a dual-layered spoiler for a bold and sporty aesthetic.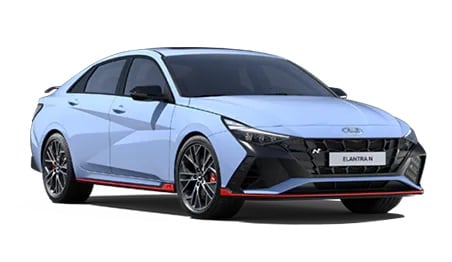 The long-running Hyundai Elantra sedan has joined the N line, and the results are stunning. A 2.0-litre turbo engine boasts over 275 horsepower and works in tandem with either an eight-speed or a six-speed manual transmission. In addition to its generous pep, the Elantra N offers quick and responsive acceleration, reaching 100 km/h in just 5.3 seconds with the eight-speed gearbox. This Hyundai N model's sporty design will wow drivers and onlookers alike, while its cornering ability will win the hearts of motoring purists and those who enjoy a fun, more leisurely ride.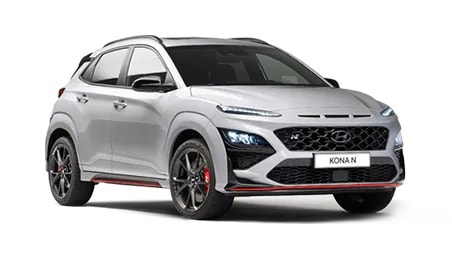 As if there wasn't enough to love about the Hyundai Kona already, this compact SUV has joined the N. The Kona N's aggressive design pairs perfectly with its engaging performance, as a 2.0-litre turbocharged engine packs over 275 horsepower, while an eight-speed dual-clutch transmission includes three high-performance functions for a most dynamic drive. Thrill-seekers will love its peppy acceleration, as the Kona N hits 100 km/h in 5.5 seconds, as well as its robust braking system, but rest assured, this Hyundai N model offers an experience that driving enthusiasts and errand runners will both love.
For more on the Hyundai N of performance models, contact us at Parkway Hyundai today.
Make an Inquiry
* Indicates a required field